Climbing Area Index / Cathedral Ledge / Bombardment (5.8)
---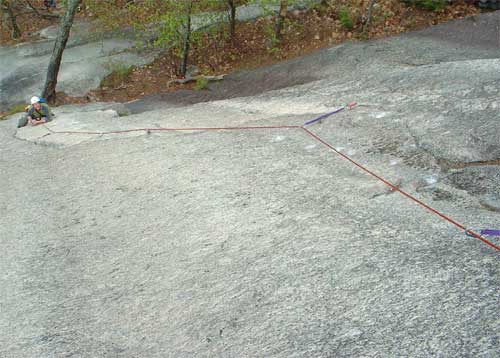 Rand McNally starting up the crack


Photo by NEClimbs.com
On the left side of the cliff, just right of a small right-facing buttress.
One of the best 5.8 climbs in the area. If only the beginning slab (5.6R) weren't so runout! Although this was originally described as 2 pitches you can easily do it in one with 60 meter ropes, however you will need 2 ropes for the rappel.

Pitch 1: From a small ledge climb the clean slab, trending right to a ledge. Traverse left to a pine tree. Belay your second up, or continue.

Pitch 2: Step up into the dike and finger crack. Follow the crack up and arching left until it ends. Make a balance move (crux) onto the face, then climb a dike to the tree ledge.


Standard rack with medium sized cams.
Rap the route or finish on one of the many other climbs to the top of the cliff.
October 6,1972 - Dave Cilley, rope solo. At a time when there were only a handfull of routes on the cliff, Joe Cote passed this one to Dave while he was busy working on Ventilator.