Climbing Area Index / Whitehorse Ledge / Jacob's Ladder (5.10c)
---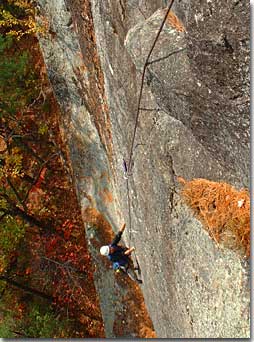 Mason Irish on pitch 2


Photo by Al Hospers
South Buttress of Whitehorse Ledge. Park in the climbers lot at the White Mountain Hotel. Follow the climber's trail to the South Buttress and the start of Hotter Than Hell. Go up the gully about 150-200 feet where there is a small cave on the left and a birch tree. Look up to 2 bolts leading to an overlap and a ledge.
Nice climbing with a variety of situations. The first 2 pitches take you to the tree ledge and are only slightly harder than Hoter Than Hell or Cold Day In Hell.

Pitch 1: Follow 2 bolts, go over the overlap (good gear underneath) past a pin and bolt to a tree ledge. (9+)

Pitch 2: More bolts and small gear lead up to the big tree ledge. You can link the 2 pitches together with a 60 meter rope but you won't be able to see your second if you do! (10a)

Pitch 3: Look for a slab to the left of a left-facing corner below a roof. The route goes up the slab following the left hand line of bolts, steps left and aims for a 2 bolt anchor below the left hand side of the roof. (10c)

Pitch 4: Step left around the roof and up past two bolts? and the crux 10B? to a 2 bolt anchor.


Bring a standard rack with small and medium sized gear. One nut to thread a bolt stud on p.3 and an optional 1 to 1-1/2 cam for a move to the anchor below the roof.
Rappel with double ropes.
Bill Lowther, Herb Stillman