Climbing Area Index / Whitehorse Ledge / Lost Souls (5.10)
---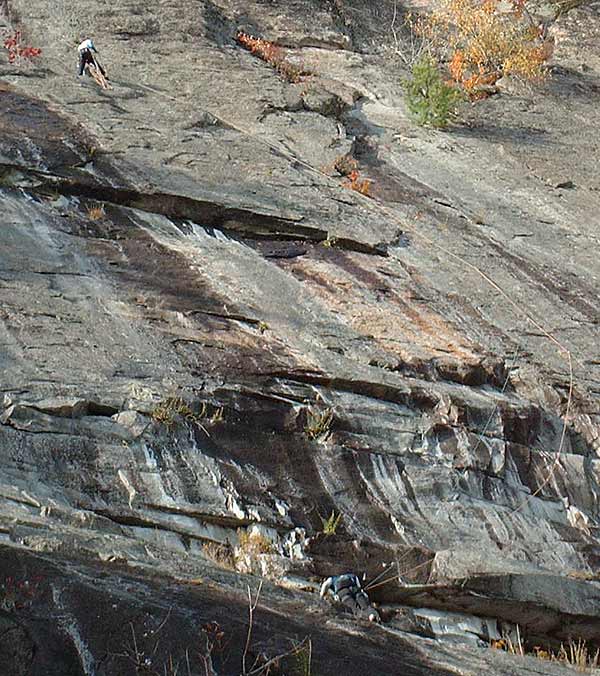 Photo by Al Hospers
Whitehorse Ledge, on the South Buttress to the right of the huge Atlantis Flake. Park in the climbers lot at the White Mountain Hotel and follow the new climbers trail to the South Buttress.
A classic 10a in a great location with superb views. If you are doing the first pitch start just left of the nasty gully on the right. There is really nothing to reccomend it tho, so I suggest you (easily) climb up below and right of the Atlantis corner and traverse right on easy 5th class traverse ledges to the double bolt anchor start of the second pitch.

Pitch 1: Move up and right on a small ledge and climb a short slab past a bolt. Climb up and left over a headwall on a black flake. Face climb past a pin on a slab and continue past two pins to a double bolt anchor. (5.9)

Pitch 2: Climb up to a bolt, mantle onto a ledge (pin) and traverse right to some bushes and a weakness. Climb straight up on flakes and jugs past two bolts. Move right (crux) onto the steep face and continue climbing straight up past 3 bolts. Follow a flake system up to a good ledge and a 2 bolt anchor. (5.10a)

Pitch 3: Traverse left, clip the bolt and climb up an exposed arete past another bolt to a good ledge. (5.9+)

Pitch 4: Climb straight up the right side of a narrow corner on square cut holds and over a bulge to a 2-bolt belay left of a small tree. (5.10a)

Pitch 5: Climb the Purgatory dike to the top of the cliff or rappel.


Tho there are a fair number of bolts, bring a standard rack with small wires for the 4th pitch.
From the top of pitch 4 you can get off in 2 rappels straight down using double ropes.
October 1993 - Bill Lowther and Jon Sykes, October 1993.