Climbing Area Index / Cathedral Ledge / Decrescendo (5.7)
---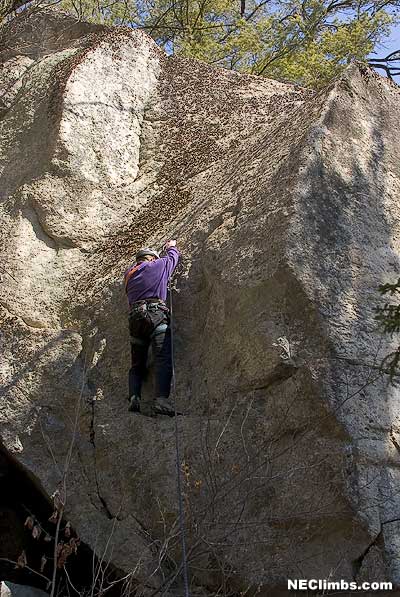 George Hurley looking for the sweet move.


Photo by Al Hospers
This route starts 20 feet to the right of No Guts No Glory on a small separate buttress just right of a gully. Look for two ring rappel bolts at the top of a slab above an overhang and another bolt at the bottom of the slab.
A very sweet climb with a single interesting move.

Pitch 1: Climb an overhanging face with a perfect finger/layback crack. Clip the bolt out right at the bottom of the slab, pull over onto the slab and continue up on very easy ground to the anchor.


small cams or tricams for the start and one draw for the bolt
Rappel from anchors.
November 7,2003 - George Hurley, Mona LíHeureux