Climbing Area Index / Cathedral Ledge / Morning Glory (5.10)
---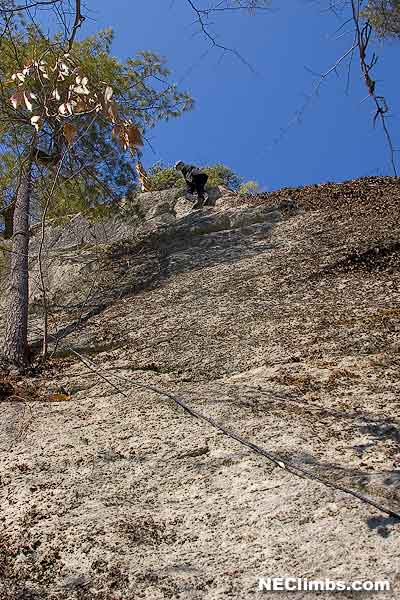 George Hurley getting ready to make the mantle onto the slab.


Photo by Al Hospers
Start where you see a bolt about 10í off the ground and about 20 feet below a small pine tree on a ledge.
This one might be just a tad underrated, but it's nice nevertheless. The moves up past the tree are entertaining at the least, confounding at best.

Pitch 1: Make a boulder move to clip the bolt and follow a nice crack that leads to the tree. Move behind the tree, step up on a clean slab on the left and friction up to a bolt below an overlap. Surmount the overlap and follow a blunt arÍte up and left to a right leaning crack. Climb the crack to the base of a little alcove. Pull through the alcove and mantle onto the upper slab just right of the bolt. (Yes, everyone grabs the bush!) Friction up past 2 small overlaps to the rappel/belay tree.

Pitch 2: Climb a short, fun crack to trees and bushwhack on up to the trail just to the left of the Barber Wall.


standard rack
Finish up to the Barber Wall trail and walk back around to the cliff or rap the route.
September 2003 - George Hurley, Peg Immel