Climbing Area Index / Whitehorse Ledge / Lady Slipper (5.9+)
---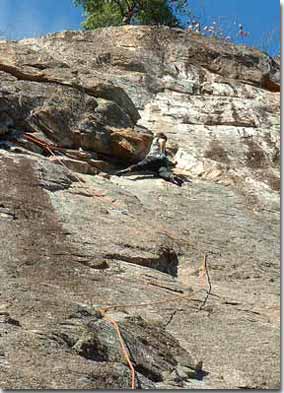 Mark Synnott on pitch 2


Photo by Al Hospers
South Buttress of Whitehorse Ledge. Park in the climbers lot at the White Mountain Hotel. Follow the climber's trail to the South Buttress and the start of Inferno. Carefully traverse across the ledges to the right, either high or low, to the large tree-covered Eliminate Ledge. The climb starts on the left end of the ledge at a blocky corner. NOTE: The traverse to the starting ledge is sometimes wet and slippery, so you should rope up for it. The lower traverse is quicker, but is a bit trickier.
A very nice route which had an undeserved R rating. The route was rebolted in September 2003. The crux move came at a button head which came out amazingly easy! All new bolts were placed within a palm-width of the originals. The lone bolt above the block at the belay is there for a directional so the belayer doesn't get pulled off the block if the second falls!

Pitch 1: Climb up the corner and trend right to a small pine tree belay on top of the buttress, approximately 40 feet. Be most exceedingly careful of loose blocks in the corner.

Pitch 2: Climb straight up from the belay past 2 bolts and continue past some flakes. (Good pocket for small cam just left of the flakes.) Step right and continue up past 3 more bolts. Move around the large overhanging flake and stem up to the double bolt belay.


Bring a standard rack with a #2 Camelot for under the final corner.
Rappel with double ropes. Double 60 meter reaches all the way from the anchor at the top of P2 to the ledge. A single 60 meter rope won't quite make it to the pine tree belay on Pitch 1!
September 1,1979 - Ed Webster, Susan Patenaude - September 1, 1979