Climbing Area Index / Whitehorse Ledge / Tranquility (5.10b)
---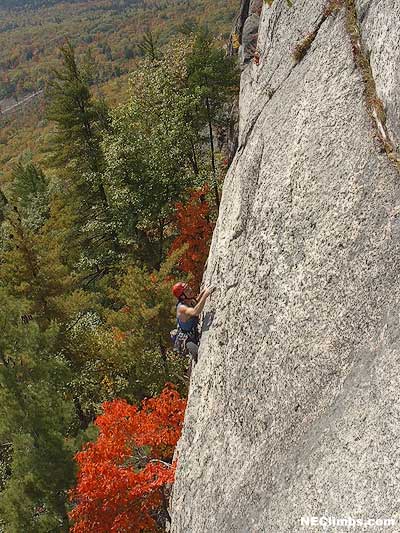 Bill Beckwith just cruising it!


Photo by Al Hospers
Starts on the ledge just right of the start of Hotter Than Hell, just left of an oak tree next to a large block.
This climb has a bit of everything: moderate crack and face climbing, a gorgeous finger crack and a difficult (and rarely done) crescendo finish.

Pitch 1: Climb the block up onto the slab and a left angling crack. Follow the crack up and left, across the line of Hotter Than Hell, to a small tree.

Pitch 2: Continue up the moderate crack passing a dished out area on its left up to the large Inferno tree ledge.

Pitch 3: Start up Inferno and step left around some small trees and step into the Tranquility finger crack. At a stance with a ledge to the right, pull over a bulge with tricky gear, or step left and belay or finish on Inferno.


standard rack
Rap with 2 ropes from a tree with slings left of the finish.
August 1976 - Ed Webster, Matt Stein