Climbing Area Index / Whitehorse Ledge / Children's Crusade (5.9)
---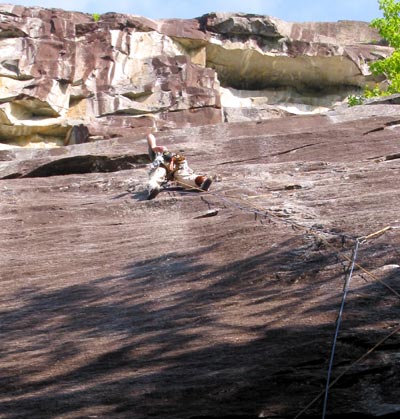 Jeff Cavicchi


Photo by Al Hospers
50' left of the Ethereal Buttress at an obvious left trending dike.
Truly a classic climb. That said, the first pitch, with it's tricky mantle-move and widely spaced protection, is somewhat of a sandbag. Not really a 5.9 for 5.9 leaders!

Pitch 1: Climb the left angling Eradicate Dike past a delicate bulge up to an overlap on the right. Step right past a pin and a bolt. Climb the dike, past the tricky mantle move, and continue up the dike to a 2-bolt anchor. 5.9, 130'

Pitch 2: Climb up the slab past a bolt to an overlap. Surmount the overlap and continue to a 2-bolt anchor. 5.9, 100'

Pitch 3: Climb a ramp and crack to the left, continuing up to a large ledge and 2-bolt anchor beneath the large overlaps. 5.8, 60'


Standard modern rack.
November 1978 - Alain Comeau and Mike Heinz