Climbing Area Index / Whitehorse Ledge / Beginners Route (5.5)
---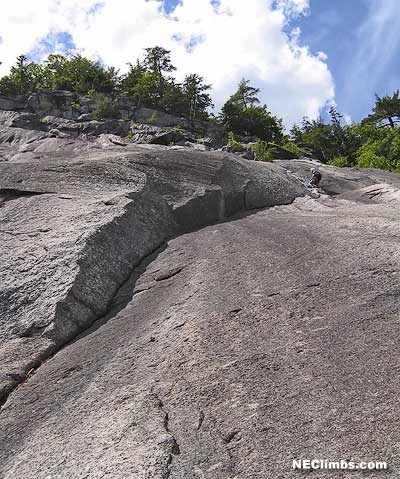 Photo by Al Hospers
Start on the far right side of the slabs, up the hill a little bit. Look for an old pine tree abut a rope length up.
Not really a route for beginners. Although slightly easier than Standard Route, it has it's share of route-finding difficulties and is somewhat runout in places.

Pitch 1: Climb the slab to a 2-bolt anchor just left of the pine tree. (5.2)

Pitch 2: Climb the crack on the left side of the overlap to a dike. Follow the dike to a 2-bolt anchor. (5.4)

Pitch 3: Follow the right-facing arch to a 2-bolt anchor at the top of the arch. (5.3)

Pitch 4: Climb the headwall to a slab, traverse left past a few pockets and then continue up to the Smile Belay Ledge and another 2-bolt anchor. (5.4R)

Pitch 5: Follow a groove and flake to a steep headwall (old pitons). Belay just below the final overlap. (5.4)

Pitch 6: Traverse left and up a ramp under some trees. Climb through a weakness to the tree ledge and belay from the trees.

Pitch 7: Continue up 2-3 pitches of easy, but runout slab climbing to the top of the cliff.


standard rack
walk off right to the Bryce Path
June 4,1953 - Herbert C. Towle, Edith MacDonald, Anne Brooks, Philida Willis, Neilan Labarre