Climbing Area Index / Cathedral Ledge / Thin Air (5.6)
---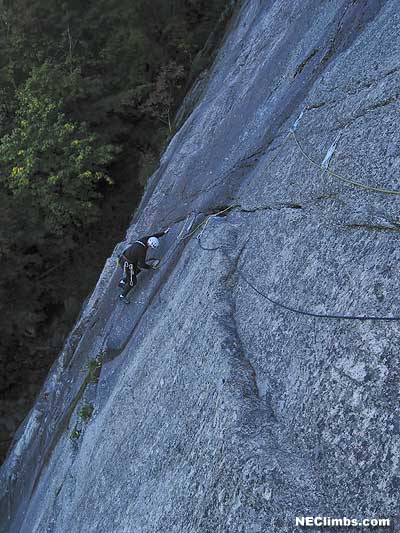 Brad White starting the traverse


Photo by Al Hospers
Find the kiosk on the road at Cathedral Ledge. Walk up the road to the Thin Air sign. Follow the trail into the woods past the Cote Boulder and uphill past the Mordor Wall. Look for a horizontal traverse ledge about 100' left of a large chimney system (Standard Route).
Inarguably the most popular climb on Cathedral Ledge and perhaps in the Valley. Plan on getting an early start if you don't want to be in line in the summer. In 2003 the bolts long protecting the traverse were chopped, so be prepared to place gear all the way across. In addition the 3-bolt anchor on top of the 3rd pitch was also chopped so once past the end of the traverse ledge you are committed to finish unless you are prepared to abandon gear!

Pitch 1: Climb a series of blocky steps to a 2-bong anchor left of the traverse crack. (5.2/5.3)

Pitch 2: Step across to the traverse crack (hard for beginners) and follow the crack across the face, hands in the crack, to a comfortable 2-bolt anchor and stance. (5.6

Pitch 3: Step right and climb up a flake past several pins to a chimney. Climb into the chimney past a birch tree and up to a comfortable belay ledge. Belay with gear. (5.5)

Pitch 4: Climb up and slightly right into a crack to an overlap. Move left to a small corner and climb up and through the overlap on good holds. Continue up and right to a good belay at a tree. (5.6)

Pitch 5: Continue up as desired to the large ledge just below the Pinetree Eliminate crack. (5.2)


standard rack
Finish on Pinetree Eliminate or walk off right to the climbers trail which takes you back to the North End.
July 1956 - John Turner, Craig Merrihue