Climbing Area Index / Whitehorse Ledge / Reign Of Fire (5.9)
---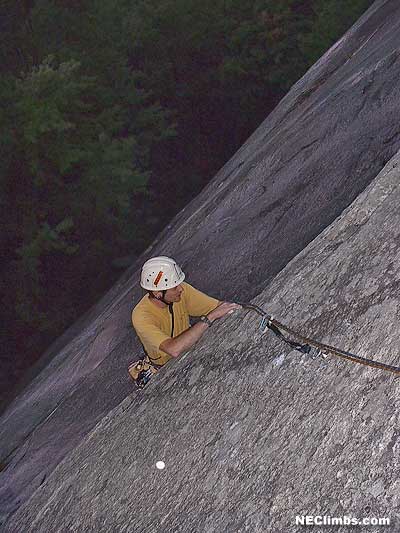 Jeff Cavicchi


Photo by Al Hospers
Just left of the Ethereal Buttress, home of Seventh Seal, Ethereal Crack and Loose Lips. Climb the first pitch of Beelzebub or Revolt of the Dike Brigade to the 2-bolt anchor on Revolt.
Very nice climbing with a mixture of face and overhangs. The crux pulls through the roof to the Loose Lips anchor at a surprising 5.9!

Pitch 1: Climb straight up past a small tree to a dike (bolt) to the second pitch corner on Beelzebub. Continue up the corner to the left for 30í to a bolt on the right at the overlap. Pull through the overlaps on jugs past 2 more bolts to the Loose Lips anchor.


standard rack
rappel to the ground with 2 ropes
September 2002 - Brad White, Ian Cruickshank