Climbing Area Index / Whitehorse Ledge / Loose Lips (5.10)
---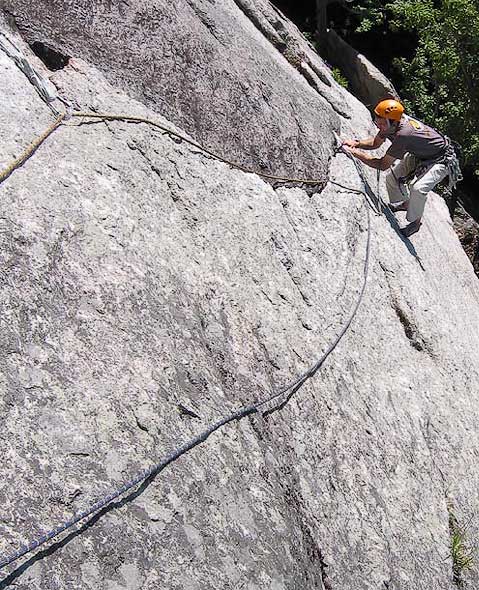 Jeff Cavicchi into the flake


Photo by Al Hospers
Whitehorse Ledge, between the Slabs and the South Buttress on the left side of the Ethereal Buttress. Park in the climbers lot at the White Mountain Hotel. Hike along the cliff, through the rockfall area, past the Echo Roof, looking for a triangular buttress with 2 cracks - the Ethereal Buttress.
The climb starts on the top of the buttress. Climb Beezlebub corner or one of the cracks in the buttress to get to the top.

Pitch 1: Lean over off the top of the block and clip the first bolt. Make a step (of faith) onto the face and make thin face moves past 3 bolts to a small ledge. (5.10a) Traverse left and down into a thin crack/flake. Follow the flake up and left to a 2-bolt belay. 5.10a, 90'


Bring a standard rack with small wires.
Rappel with 2 ropes to the ground.
August 1979 - Jim Dunn, Martha Morris, Ken Sims and Alain Comeau in August, 1979.