Climbing Area Index / Lost Ledge / Gawking at the Broad Squad (5.5)
---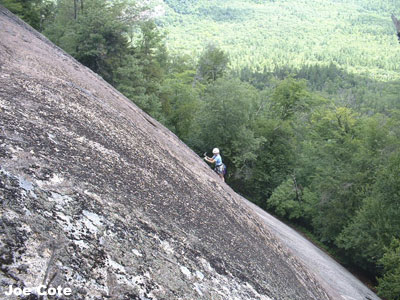 Jean putting in the bolts.


Photo by Joe Cote
Start by a Large Yellow Birch tree which is in front of Four Holes. It shares the start of Four Holes up to the first bolt.
The name is in reference to three lovely ladies who were doing a FA a few feet away.

Pitch 1: Start as for Four Holes up to a 1/4" bolt with a homemade hanger (made by Joe Cote in 1973). Continue straight up past two new bolts over dimples and chicken-like-heads, which makes for very pleasant climbing, to a two bolt hanger 110' of fun 5.5 climbing.

Pitch 2: 75' of low angle 5.2 slab climbing to a tree anchor.


draws
rappel from tree with 2 ropes
July 17,2004 - Joe Cote, Larry Boehmler