Climbing Area Index / Whitehorse Ledge / Man's Best Friend (5.8)
---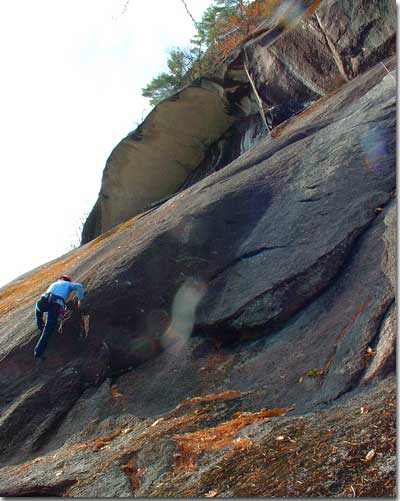 Mantie Pilsner


Photo by Al Hospers
Whitehorse Ledge - Walk left past the slabs across the rockfall area. The climb is located just left of Sleeping Beauty and right of Echo Roof. It starts up on a tree covered ledge.
One of many nice routes in the vicinity of Echo Roof.

Pitch 1: Carefully move up a mossy and pine needle covered slab until you are under a black "nose" with a bolt on its right side. Clip the bolt and summount the nose on its left. Climb a thin slab past a bolt to a small ledge and then up to a 2 bolt belay.


Bring a standard rack with some small gear.
A single 60 meter rope will get you back to the original tree ledge.
June 1988 - John Strand, rope-solo