Climbing Area Index / Lost Ledge / Girls Prefer Batteries (5.5)
---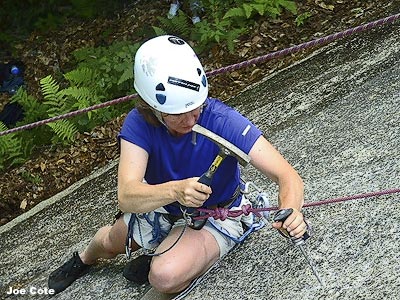 Ellen Moran, longing for Joe's battery powered drill


Photo by Joe Cote
Start 20 feet left of Four Holes.
The first bolt was placed free on the lead and the others on top rope. The bolts were placed by hand, hence the tongue-in-cheek reference to the girls desiring a battery-powered drill.

Pitch 1: Climb the smooth slab (crux) to a bolt. Continue straight up just right of a faint seam to the large, deep pothole on Cover Girl (bolt). Angle slightly right and up the headwall to a comfortable 2 bolt belay. (100í) 5.5

Pitch 2: Trend slightly right up a clean streak, past a left facing flake (optional cam placement) to the top.


draws
You can rappel twice with one 60 meter rope or to the bottom with 2 ropes.
July 17,2004 - Jean Goldsborough, Ellen Moran, Carol Orth