Climbing Area Index / Band M Ledge / 5 Bit Hooker (A3)
---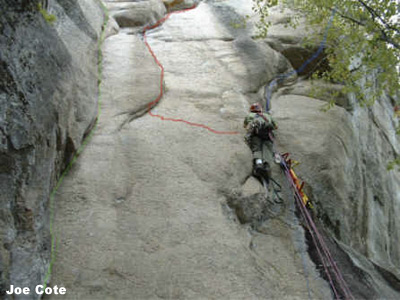 Larry Boehmler


Photo by Joe Cote
Located on the right side of the crag, between Bandit and General Hospital.
During the final ascent Larry broke 3 of Joe's 1/4 bits, and Joe broke 2. They put in five 1/4 aid bolts (no hangers new-old bolts that Joe had) After the last bit was broken Larry hooked his way to the top and thatís how they got the name 5 Bit Hooker!

Pitch 1: Climb the 80' to the top.


standard aid rack with hooks
Rappel from General Hospital's anchor on a big ledge
September 13,2002 - Larry Boehmler, Joe Coty