Climbing Area Index / Rainbow Slabs / The Perfect Wave (5.7)
---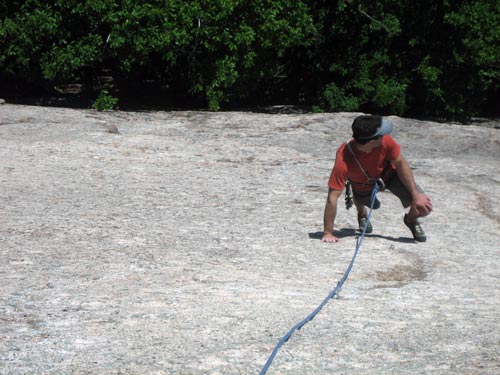 Travis


Photo by Richard Parker
Start as for Take A Giant Step. Look for some thin vertical flakes up high on the slab.
My gosh, protection at last! Bolts were drilled by hand on the lead.

Pitch 1: Climb the brown slab to the right-facing corner, past the overlap to the rightmost belay ledge.

Pitch 2: Climb the groove and then face climb out right onto the main face. Find a flake (gear) and follow a dike past 2 bolts (crux). Continue to the right to the vertical flake you can see from the ground and then to the belay slings. You use these to rappel all the routes on the Perfect Wave slab.

Pitch 3: Climb easily to the 2-bolt anchor below the trees or continue to the top.


standard rack
rappel the route
November 1980 - Ed Webster, Susan Patenaude