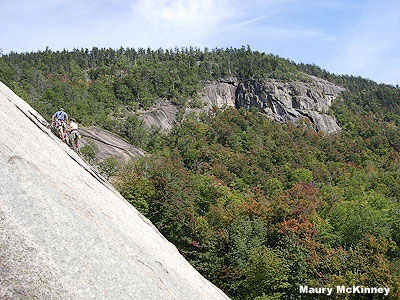 Photo by Maury McKinney (IMCS)
Look for a left-leaning dike in the middle of the slab. Starts on a tree ledge, 40' off the ground.
Nice climbing with reasonable protection, at least on the first pitch!

Pitch 1: Climb the dike up and left past a pin and several natural threads. Layback the flake to the belay slings. (5.6)

Pitch 2: Climb the unprotected slab to the 2-bolt anchor below the trees or continue to the top.


standard rack
rappel the route
1975 - Joe Cote, Michael Hartrich