Climbing Area Index / Cathedral Ledge / Colonial Ambush (5.11d)
---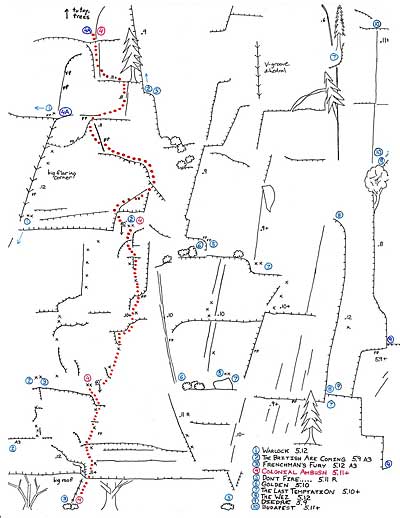 Click topo for larger image


Photo by Description and topo by Jason Seaver
Start 60 feet right of REMISSION, and 100 feet left of DIEDRE, below a horizontal roof 15 feet off the ground.
Above the roof is an overhanging, left-facing, left-slanting corner, the line of FRENCHMAN'S FURY. COLONIAL AMBUSH shares the opening moves of FRENCHMAN'S FURY, then breaks right and follows a line of featured dike rock for 140' to join THE BRITISH ARE COMING at it's second belay. From there it takes a wandering line up the steep wall between WARLOCK and DON'T FIRE÷, and finishes up a moderate crack to join DON'T FIRE... The third pitch is quite a journey and wanders quite a bit.

Pitch 1: Stick-clipping the first bolt is a wise option. Make powerful moves up into the corner, and then pull right, around the outside corner onto the face (5.11+). Climb the face, following a faint, diagonal dike, past four bolts and a knifeblade. Belay at a two-bolt anchor on a ledge on the left. (60' - 5.11+)

Pitch 2: Step back right and face climb diagonally right, at first, then straight up the wall, past five bolts, a knifeblade, and a few gear placements. Interesting face climbing with a troublesome bulge at half height. Belay at the two-bolt anchor on top of the second pitch of THE BRITISH÷, under a small roof. (80' - 5.10+)

Pitch 3: Freeclimb the first 20' of the third pitch of THE BRITISH ARE COMING; climb the short corner above the belay to a ledge, then move right past an old bolt to a stance. Protect, and then move further right around the corner to gain the slab leading back up and left. With significant exposure, regain the steep wall on the left by climbing onto the sloping ledge. Carefully traverse left to a knifeblade in a thin crack, and continue left to a left facing flake on the top of WARLOCK's crux pitch. Climb the flake to the horizontal crack, get some gear in, and then make hard moves up and right onto a ledge (5.11). A short, overhanging set of thin cracks (5.11) leads up to a pine tree, and from the pine, make a difficult traverse left (5.11+) to a short finger and hand crack. Jam the crack over the final steep bulge and belay, on nuts, on a sloping ledge. (Optional)

Pitch 4: Climb the enjoyable finger and hand crack up a low angle slab and join DON'T FIRE ÷., and THE BRITISH÷. to pull onto the summit slabs. Belay at a tree 25' higher.


Carry many long slings or lead on half ropes, and bring a standard rack.
Make two double rope rappels from the tree at the top of the fourth pitch.
April 22,2001 - 1st pitch; Jason Seaver and AJ Jones, April 25, 2000
2nd pitch; Jason, Christy Seaver, AJ Jones, Paul Rowe, May 17, 2000
Complete; Jason w/ Bob Wallstrom April 22, 2001