Climbing Area Index / Cathedral Ledge / Son Of A Pitch (5.9)
---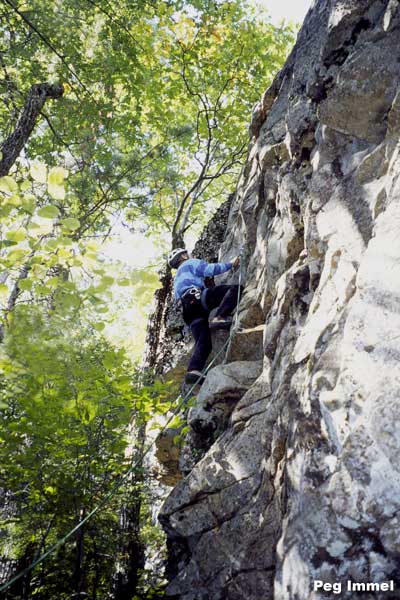 George Hurley


Photo by Peg Immel
One of a couple of small crags located well below the Barber Wall. Descend the trail from the top of Cathedral Ledge past the Barber Wall cutoff. Continue down about another 30 feet and when the trail turns right cautiously scramble down the gully straight ahead keeping the slab and cave on your left.
Fairly stiff for a 5.9! Follow three bolts to a 2 bolt ring anchor between Son of a Pitch and Mighty Mite. The crux is at the same spot as Mighty Mite. You will need the same purple Metolius to protect the final moves, however you will not have groundfall if you blow it because of the higher last bolt.

Pitch 1: Make tricky moves back and forth to a step right at the crux bulge half way up.


standard rack, purple Metolius of equivalent is very useful
rap from 2-bolt anchor
September 2003 - George Hurley & Peg Immel