Climbing Area Index / Cathedral Ledge / Dawn Patrol (5.8)
---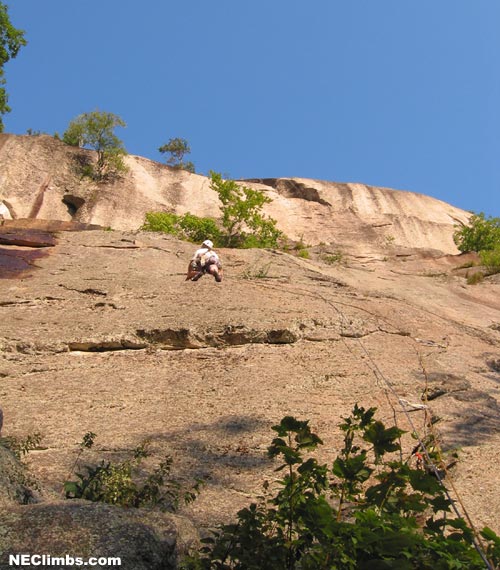 Al Hospers


Photo by Jeff Cavicchi
Park near the kiosk at the base of Cathedral Ledge, walk up the road a little and look for the sign for the Thin Air trail. Hike uphill past the Mordor Wall and Thin Air to the top of the hill. Rack up at the base of the Saigons tree, and walk up hill another 50'. Look for a right leaning crack. Watch out for broken glass and beer cans!
Nice face climbing on reasonably clean rock make this a nice outing. A bit runout after the crack, but on easy ground.

Pitch 1: Climb the right diagonalling crack. When it ends make a move up (crux) and step left. Climb up trending left on the featured slab past a lone pin (6r) to an overlap. After the pin look for a cam placement in the overlap and a large pocket on the right. Step right to the double bolt DMZ anchor.


Bring a standard rack with small cams and nuts for the crack.
Rappel with 2 ropes back to the Saigon tree, or move right to the Saigon belay and continue to the Airation traverse ledge.
June 12,1982 - Todd Swain and Mike Cody. Todd remembers, "The original 3/8" bolts were drilled by hand. We had an epic with the bolts at the DMZ anchor (Mike Cody smashed them all up trying to get them in the holes [they were the old style contraction bolts]). Mike went back later and cleaned the anchor mess up."