Climbing Area Index / Cathedral Ledge / Devil's Byway (5.10c)
---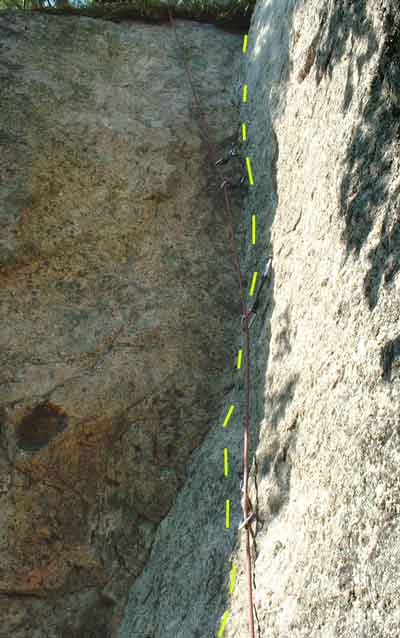 Photo by Al Hospers
Hike down the climber's trail from the top of Pine Tree Eliminate less than 5 minutes to the area between Repentance and Remission. You may also park at the slab just before the turnaround at the top of Cathedral and walk directly into the woods on a trail that intersects with the climbers trail.Walk downhill and look for a piece of pink surveyor's tape and a small trail going off to the right. There is a medium sized pine tree near the cliff edge with green rappel slings and a rap ring up high. Rappel down from this tree to a good ledge about 150' down. The route starts initially up a steep right-facing corner.
An interesting but tricky corner. The top-out on the initial section may reguire a trowel!

Pitch 1: There are 3 distinct sections to the climb. The first is the corner and is the crux. Be aware that at the top-out of this section you are 5' above your gear and climb onto a grassy ledge with no real holds! The second section climbs a large flake with good gear behind it, with a layback finish. The last section climbs a short vertical crack past 2 small birch trees. The climb could be broken up into two pitches. The first being section 1, and the second sections 2 and 3.


Draws, nuts and medium to small cams.
N/A - you climb out.
July 2001 - George Hurley & Mike Kahn