Climbing Area Index / White's Ledge (Bartlett) / Endeavor (5.7+)
---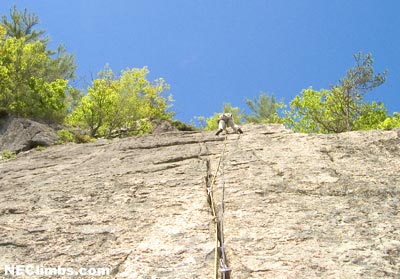 The perfect crack


Photo by Toby Savage
Start at the toe of the cliff, just uphill and left from where the trail comes out of the talus field.
Endeavor features wonderful climbing on generally good rock plus a 5.5 hand crack on the 5th pitch that is nothing short of amazing. However, with it's intricate protection and somewhat difficult route-finding on the 2nd pitch it might not be a good choice for budding 5.7/5.8 leaders.

Pitch 1: Climb straight up to the first tree ledge. 30í

Pitch 2: Climb straight up to the next pine tree on a comfortable ledge. Youíll have to look carefully to find protection. 5.7+

Pitch 3: Clip a pin right off the tree belay and climb up and right to the headwall. Move through the headwall to the tree ledge at an obvious weakness, staying well left of the rockfall area on the right. Be careful of loose rocks on the ledge.

Pitch 4: Climb a short slab up and right to a belay at a natural thread just below the start of the upper slabs.

Pitch 5: Climb up and right to the hand/toe crack. Youíll probably have to belay about 1/2 way up the crack at a stance. 80í-90í 5.5

Pitch 6: Continue up the crack. Where it ends, either head right to a tree ledge, or left to a belay at a tree, just right of a large ledge. From the left belay you can get to the ground where you started in 3 rappels. 5.5

Pitch 7: Continue up a crack on easy ground. Follow a bushy gully to the top of Mt. Stanton.


standard rack
walk off right from the top or rappel from the top of the 6th pitch with 2 ropes
November 6,1971 - Joe Cote, Roger Martin