Climbing Area Index / Cathedral Ledge / Diagonal (5.9+ R)
---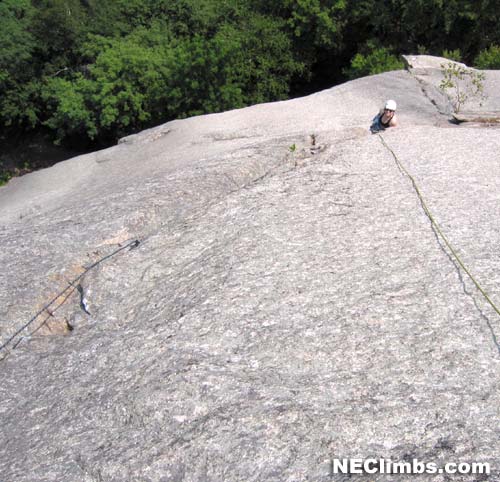 Alyssa Franks on pitch 2


Photo by Al Hospers
Hike up the Thin Air trail to just below the start of Standard Route.
Although pitch 3 is strenuous and awkward to protect (besides the poision ivy in the crack) the second pitch is very moderate, reasonably protected and is outrageously exposed.

Pitch 1: Climb either the regular or direct starts of Standard Route. At the base of Toe Crack continue right to a 2-bolt belay on top of a large block. 5.6 or 5.7+, 120'

Pitch 2: Climb the right-diagonaling dike past occasional pins and old bolts, around a flake and bulge (crux) to a 2-bolt anchor on the left or right. 5.6, 120'

Pitch 3: Continue up the dike system, surmounting an awkward and poorly protected bulge. Continue up the crack above, attempting to avoid the poison ivy, or step out left on an easy but unprotected slab. 5.9+R, 150'


Bring a standard rack.
You will need 2 ropes and 2 rappels to get off the route once you climb the dike. Pendulum back to the top of the block, or continue straight down to the 2-bolt anchor at the top of the Mordor. Either way, one more rap takes you to the ground.
August 1970 - Sam Striebert and Mike Stulz