Climbing Area Index / White's Ledge (Bartlett) / Finesse (5.10c)
---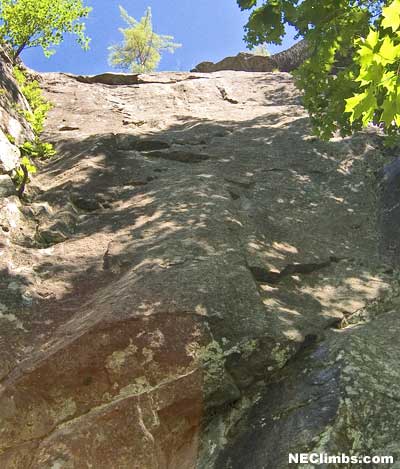 Walk uphill to the right from Endeavor, past a bolted arete on your left, Brad White's Cry For Yesterday (5.11d), and then past the right-facing corner of Especially When The October Wind Blows (5.8). Finesse is on the next face.
While fitted with 6 bolts, it's hardly a sport route. The climbing doesn't get easy until you're over the overlap at the top! The first ascensionists worked on the climb for several weeks in late November, finally sending the line one morning just as it started to snow. You can put a 1.5 Friend before the 1st bolt and additional gear between the 5th and 6th as well as above the 6th bolt under the upper overlap/roof. Small wires and TCU's may be useful.

Pitch 1: Climb straight up the face, step over an overlap, continue on easy ground and belay at the large pine tree.


draws and small gear
rappel from the pine tree
November 28,1999 - George Hurly, Al Hospers