Climbing Area Index / Whitehorse Ledge / Hotter Than Hell (5.9)
---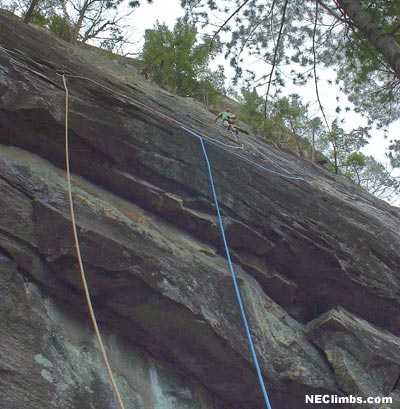 Casey


Photo by Al Hospers
The route starts below a bolt on a ledge that's above the short Cathonian Slab, 80' left of the start of Inferno.
This is as nice a face route as you can possibly imagine. The crux is getting into the large niche about 2/3 of the way up and is protected by a bolt. While this used to be done in 2 pitches, belaying at the niche, with 60 meter ropes it's easy to go all the way to the tree ledge.

Pitch 1: Climb to the bolt and make a traverse right to another bolt. Face climb up past more bolts to the bolt just below the obvious niche. Mantle (crux) and climb directly out the niche at the top or step left into the crack on pitch 1 of Tranquility and continue to the tree ledge.


standard rack, double 60 meter ropes are helpful
Rappel from a tree 40' left of the finish.
May 29,1980 - Matt Peer, Craig Stemley