Climbing Area Index / Whitehorse Ledge / Inferno (5.8)
---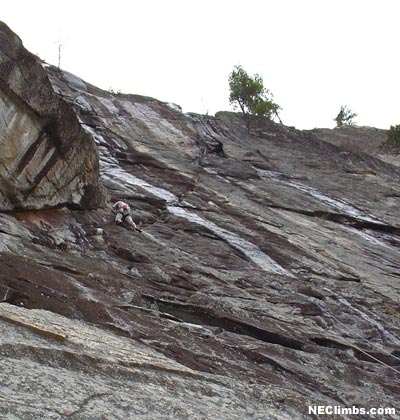 Mark Givins


Photo by Al Hospers
Start on a ledge below a black face, right of the huge right-facing Atlantis corner.
On the heat of the summer, this might not be the best choice - at least the first pitch! The upper crack is great any time. The traditional start requires you to climb (easy) up to a ledge directly below the Atlantis corner. Belay from a tree.

Pitch 1: Start up a groove and start looking for a couple of pitons. There are also several hidden tricam placements. Join with the corner on the left and layback to its top. With 60 meter ropes you can continue all the way over to the tree ledge. (5.7)

Pitch 2: Walk left on the ledge until you are below an obvious hand crack. Climb some flakes to the crack. Jam it to the top and belay at a small ledge. (5.8)

Pitch 3: Step left behind a small tree and climb a right-leaning finger crack to the slabs at the top. Continue to the trees at the top of the cliff.


standard rack, tricams are nice for the 1st pitch
rappel from rings on a tree about 50' left of the top of the route
August 1972 - Bob Anderson, Wayne Christian