Climbing Area Index / Cathedral Ledge / DMZ (5.9)
---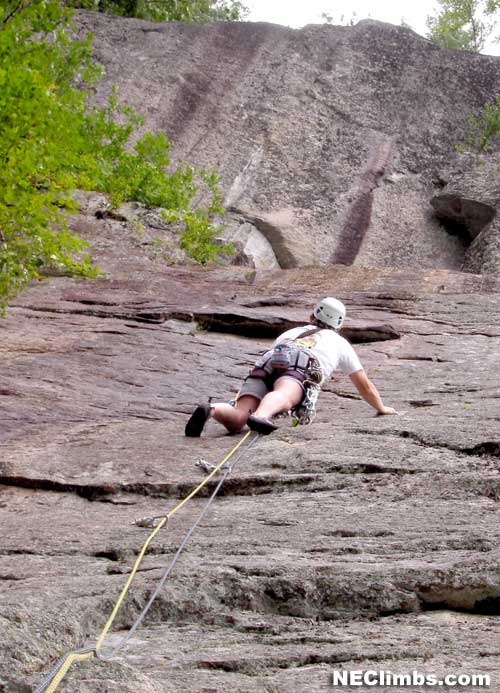 Al Hospers


Photo by Rand McNally
Hike uphill past the Mordor Wall and Thin Air to the top of the hill. Rack up at the base of the Saigons tree, and walk up hill another 50'. Look for 2 bolts about 20' up just right of the red-brown stripe. Watch out for broken glass and beer cans in the gully!
This route has an undeserved bad reputation.The crux moves are very nice and well protected. Above that the climbing is easy, but runout. However if you feel uncomfortable you can clip a bolt or pin and make things very safe.

Pitch 1: Climb up the buttress to the first bolt. face climb to the second bolt and step up over a small bulge. (5.9) Continue straight up on significantly easier ground to the next bolt. You can clip the bolt in the red strip (Rose Madder) or a pin on the right (Dawn Patrol) to make things safer. From the next bolt below an overlap, step right and up to the double-bolt DMZ anchor. - 140'


Bring a standard rack with small cams and nuts.
Rappel with 2 ropes down and right to the Saigon tree, or continue up and right to the Saigon belay and up continue to the Airation traverse ledge.
June 12,1982 - Todd Swain and Mike Cody.