Climbing Area Index / Cathedral Ledge / Highway 61 (5.13b)
---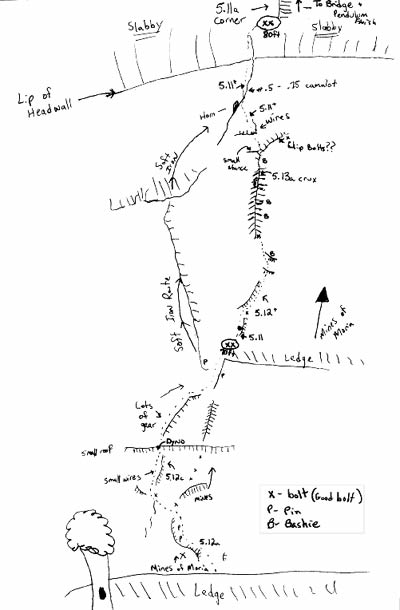 Photo by Tim Kemple (topo)
Cathedral Ledge: Start as for Mines of Moria.
no description available

Pitch 1: Start on Mines of Moria - power laybacking past the bolt off the ledge and two pins up to the next bolt. From there step left up some side pulls, past a bolt and small wires to a dyno, then to a sloper over the roof. Easy corner climbing leads up and right to join Mines for the last 5 feet to the belay.

Pitch 2: Step off 2 feet right of the belay up past a bashie, and clip a bollt. Then powerful sidepulls and slopers lead to shelves and more bashies. Clip the ones you want up to the base of an overhanging corner. Clip a bolt and start up the corner, easily at first, past two more bashies, clip a pin and begin the crux towards the top of the corner. Powerful stemming past more bashies until you can reach the jug on the arete to a stance. Step left and cruise the upper finger crack over the lip and up to a belay at a stance 10ft over the roof 5.13a/b.

Pitch 3: Climb the ever steepening corner past a few pins up to the base of THE BRIDGE OF KHAZAD-DUM. Finish up The Bridge or Pendulum Route.


Normal rack down to RP's, and up to #2 Camelot.
Rappel the route or finish as desired to the top.
April 2003 - Tim Kemple, Tim Kemple Sr, and David Schmidt. On the first ascent both seconds used aid on p1 and p2.