Climbing Area Index / Lost Ledge / Twirpie Girl (5.9)
---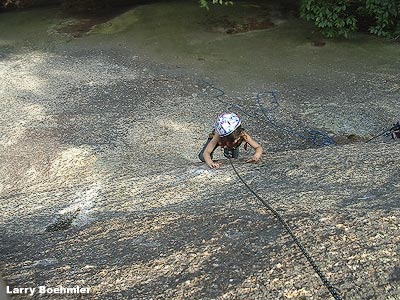 The Twirpie Girl herself, Haley Mareau, making short work of it.


Photo by (grandpa) Larry Boehmler
Located at the left end of Main Cliff. Go past the toe of the cliff up the "carpet rolls" for about 50'.
This route is kind of a "one trick poney" only the trick is really nice. It's named after the Twirpie Girl herself, Haley Mareau. The white streak is caused by water running out of the bulge!

Pitch 1: Start in front of small maple tree and climb a low angle slab (5.2) for 35' to a 15' head wall. Summount the headwall (5.9) past 1 bolt. Stay left of white streak & left of bolt. 2' above bolt is a hollow bulge. Above bulge is slopping ledge. Go right to the flaring seam, follow to the end then low angle slab going way-left to a hemlock tree 190'. Or, once above bolt on sloping ledge go right to two bolt anchor above pocket on Little Dab Will Do Ya.


one draw for the first bolt & then you're on your own!
rappel from tree or anchors
August 28,2004 - Larry Boehmler, Fred Batchelor, & Haley Mareau (Twirpie Girl - 5 yrs old).