Climbing Area Index / Lost Ledge / Little Dab Will Do Ya (5.10)
---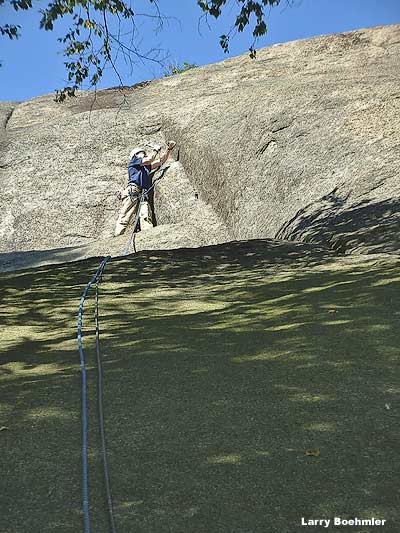 Fred Batchelor, putting in the bolts on the FA.


Photo by Larry Boehmler
Located at the left end of Main Cliff, 20' past lowest part of cliff up Carpet Rolls. Look for a left-facing corner about 30' up a green slab.
A great line with a couple of committing bouldery moves. Hard to believe this one wasn't grabbed years ago!

Pitch 1: Face climb up & left of pocket with small bushes growing in it to start of seam. Follow seam to a left-facing corner & 15' headwall with 2 bolts. Up to headwall is 5.5, getting past bolts is 5.10. Above headwall is a pocket with a comfy 2-bolt anchor.


2 draws
rappel from 2-bolt anchor
September 16,2004 - Al Hospers, Joe Cote
FA - Fred Batchelor, Larry Boehmler September 4, 2004