Climbing Area Index / Cathedral Ledge / Recompense: Chimney (5.9)
---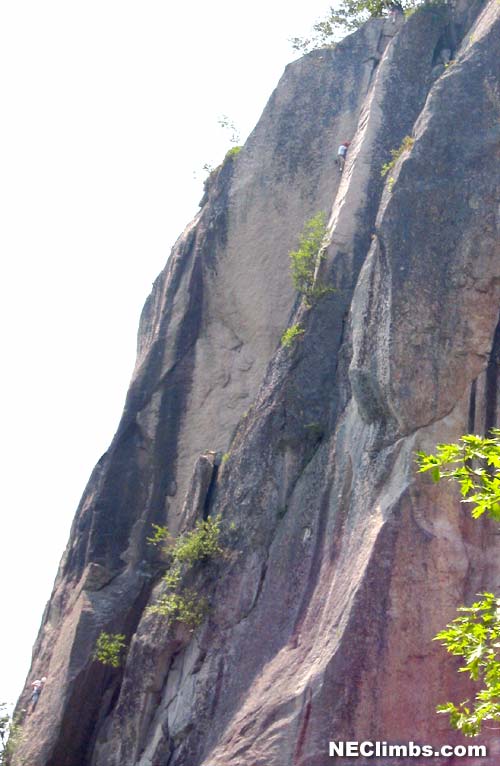 Photo by Al Hospers
Hike up the Recompense trail. The climb starts on a nice ledge directly below the Prow.
With 60 meter ropes you can do the entire first pitch in one, otherwise you need to go up to a small ledge about 20' further up on the right (5.5) and start from there.

Pitch 1: Climb up into a crack system. Follow old pins up and trend left. The crux is a layback and mantle move below the belay ledge. 5.7, 180'

Pitch 2: Step left off the belay and continue up right and of a birch tree into the chimney. At the top of the chimney layback the crack (crux) to a belay in the crack above. 5.8, 100'

Pitch 3: Climb the clean dihedral corner past an initial bulge (crux) to the top. Once past the crux the difficulties are alternated with stances. 5.9, 110'


Standard rack with small cams and nuts for the upper dihedral and large gear for the chimney or the Beast Flake.
You will need 2 ropes to get off the route from anywhere. In addition, once you are at the start of the dihedral pitch you can only get off if you leave gear in the crack!
The majority of Recompense was done by John Turner and a variety of partners (Michael Ward, Dick Morden and Richard Wilmott) in mid-May 1959. The last pitch was completed by John Reppy and Harold May on July 5, 1963.