Climbing Area Index / Cathedral Ledge / Rapid Transit (5.10)
---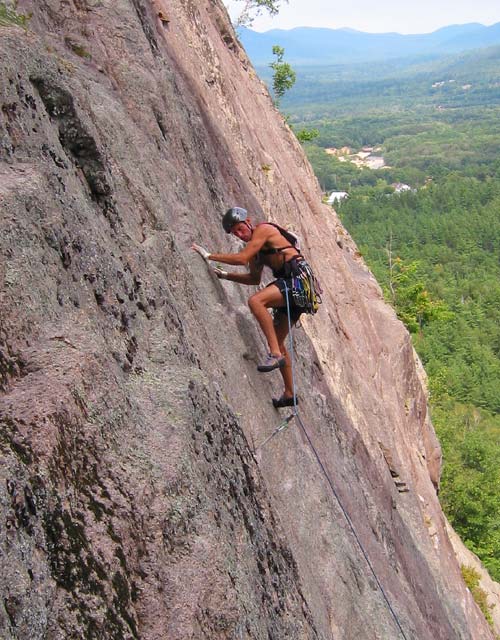 Photo by Al Hospers
Start as for Thin Air.
Thin face climbing at it's best.

Pitch 1: Climb the short first pitch of Thin Air to a "2-bong" belay. (50', 5.2)

Pitch 2: Climb straight up to a bolt, then traverse up and slightly left to a small ledge and clip a pin on the right side. Continue up and slightly right to the crux bolt. Climbing right of the bolt is 10a, left 10b. Make the moves, clip the bolt and balance traverse left. Continue up and left (much easier) to a 2-bolt anchor. (125', 5.10a/b)

Pitch 3: Off the belay, climb straight up and over an overlap. Continue past a pin and 2 bolts, to a final bulge (5.9), then step left to a 2-bolt chain anchor. (90', 5.9)


Bring a standard rack with small gear for the second pitch.
Rappel with 2-50 meter ropes or continue to the Airation Buttress ledge.
October 31,1985 - Ed Webster and Kurt Winkler