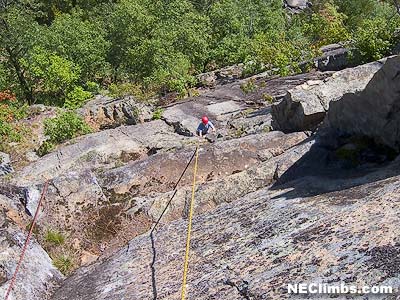 Walk past the large talus field and all the way to the right side of the crag.
A mix of dirty face and crack climbing. In past guides this climb has gotten a star, but this writer feels it's not worthy! With 60 meter ropes you can do the whole thing in a single pitch.

Pitch 1: Step up on a block and make a boulder-move onto a small ledge. Work up to a small roof with a notch on it's left side and summount the roof. Climb a dirty face and then left a little into a crack. Follow the crack to a ledge a little higher and right of the Zanzibar tree belay. Step right on the ledge and climb a crack to the top.


standard rack
rappel with 2 ropes
April 27,1987 - George Hurley, Bob Marquis