Climbing Area Index / Cathedral Ledge / The Roof (5.8+)
---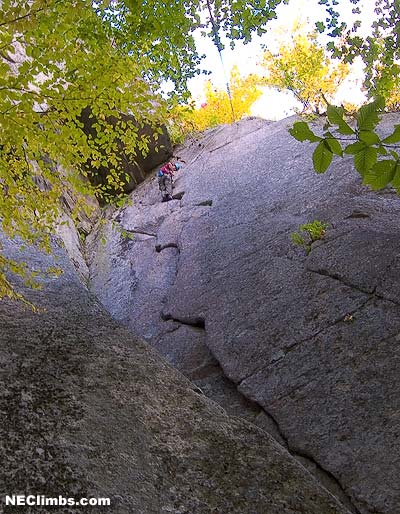 Toby Savage on a delightful late-fall morning.


Photo by Al Hospers
Walk up a little rise at the left side of the North End. Look for a large corner capped by a roof about 20' left of The Slot.
Nice climbing with excellent protection on wonderfully textured rock, totally unlike most of the other North End slip-fests! If you're solid on 5.9 and haven't done this one, you should. If you keep going after the ledge you can get to the large Unicorn ledge and 2 other cool climbs - Raising The Roof (5.9) and The Liger (5.10).

Pitch 1: Follow the undercling flake/ramp up and left 30 feet then climb discontinuous and sometimes hidden cracks with good gear on the right wall. Climb past the roof into a right-facing corner on good holds to a ledge. Build a belay in the corner or belay from slings on a tree. You can rap from here, or continue up a somewhat dirty corner with some loose rock (5.7) to the big Unicorn Ledge and a bolted rap station.


standard Cathedral rack
rap from slings
October 22,1972 - Henry Barber, Budge Gierke