Climbing Area Index / Cathedral Ledge / Mines Of Moria (A2 IV 5.6)
---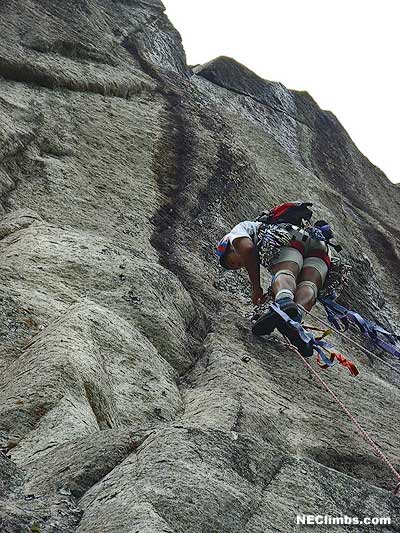 Dave Oka at the bolt ladder.
Walk up right of the Mordor and look for a large tree below a sloping ledge.
Certainly one of the classic moderate aid climbs on Cathedral. Look out, before long it's going to go free!

Pitch 1: Climb a bolt ladder to a large sloping ledge. Traverse to the right to some trees. (A1)

Pitch 2: Aid the flake and then continue up a long bolt ladder, manky, to a flake. Aid the flake to a belay stance. (A2)

Pitch 3: Aid the corner, make a pendulum left to a parallel corner and continue to the belay at the start of The Bridge. (A2)

Pitch 4: Aid up into the huge right-facing corner and traverse right and around the corner. (A2 or goees free at 5.11d)

Pitch 5: Follow a dike up and right to the top.


standard aid rack PLUS a ton of large gear if you're going to do The Bridge.
walk off right to the North End
May 8,1972 - Joe Cote, Paul Ross