Climbing Area Index / Band M Ledge / Mystery Achievement (5.11d)
---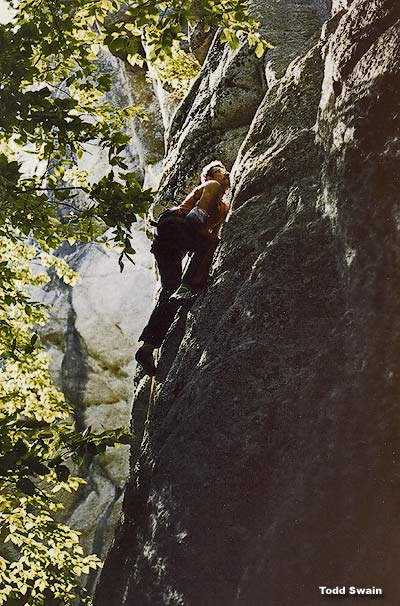 Todd Swain on the first ascent of Mystery Achievement (5.11d)
Band M Ledge, September 23, 1987
Look for the 3 bolts 10 feet left of Three Wogs.
The second pitch is quite good stemming up the steep groove and is worth doing even if you use one point of aid to pull past the lower crux.

The route is named after the Pretender's song of the same name, which has the line "...nobody's perfect, not even a perfect stranger...".

Pitch 1: Clip the three bolts, the crux is getting onto the slab just past the third bolt. At the roof, traverse left to a crack and follow it up to the belay at the base of the upper groove. It is possible to combine the 2 pitches into one if desired.

Pitch 2: Stem up the groove past some bolts to a jug where you step out to the right. Move up to another bolt and angle right up the face (scary) joining Three Wogs. (10d/11a)


standard rack and draws
rappel the route
September 23,1987 - Todd Swain, Kathy Beuttler. While several individuals, including Dick Petersen, Jim Ewing and Steve Damboise, had done various parts of the climb, it was Todd and Kathy that managed the first complete ascent