Climbing Area Index / Mount Washington / Pinnacle Gully (WI 3 III)
---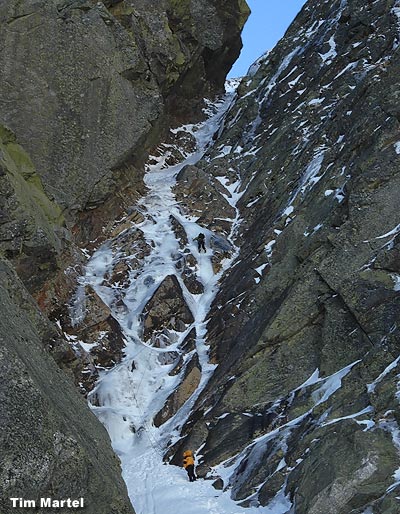 Early season conditions in Pinnacle Gully.


Photo by Tim Martel
Located just left of the obvious right-angling ramp (Central Gully) in the back right side of the ravine.
This is the classic ice and snow climb in New England. It usually starts coming in sometime in November and often lasts until late March. Tho technically very moderate, never take climbing on Mt. Washington for granted.

Pitch 1: Climb the initial ice bluges for a full pitch to a fixed belay on the left wall of the gully. Beware of water running under the ice.

Pitch 2: Moderate snow climbing for a full pitch.

Pitch 3: More snow climbing until you reach a ice exit on the right wall.

Pitch 4: Climb the ice to the pucker-brush and rocks and continue up to the Alpine Garden OR continue straight up to the Alpine Garden.


standard ice rack
If there has been enough snowfall the Escape Hatch (left) is a popular and quick descent path. Look for the ancient shovel stuck in the cairn. You may also follow the cairns left to the Lion's Head trail which takes you back to the Tuckerman's trail.
February 8,1930 - Samuel A. Scoville, Julian Whittlesey