Climbing Area Index / Cathedral Ledge / Recompense: Beast Flake (Recombeast) (5.9)
---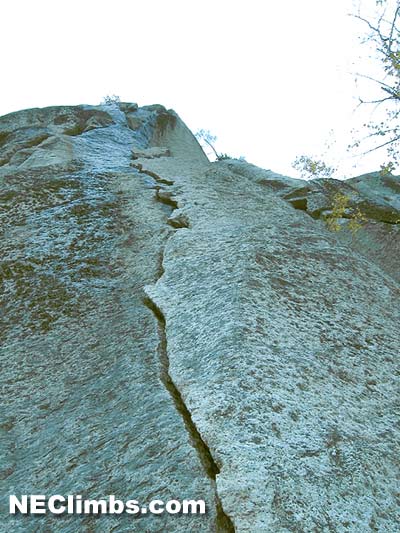 Photo by Al Hospers
Hike up the Recompense trail. The climb starts on a nice ledge directly below the Prow.
The first pitch of Recompense and the Beast Flake are often done as a climb in its own right.

Pitch 1: Climb up into a crack system. Follow old pins up and trend left. The crux is a layback and mantle move below the belay ledge. 5.7, 180'

Pitch 2: Step left off the belay and go straight up 2 cracks to a stance on the left, below the Beast Flake. Protect high on the right in the crack, step down and make an exposed move left into the flake (crux). Climb the beautiful sharp flake to a belay stance at its top. 5.9, 125'

Pitch 3: Step down into the chimney (hidden hold below your feet on the left side in the chimney) and layback (strenuous) to the belay OR make a balance traverse off the top of the flake on thin hands and feet to the belay. The latter is called the "Overpass " The leader can protect up high on the left and then put in a directional up high on the right for the second. 5.8, 40'

Pitch 4: Climb the clean dihedral corner past an initial bulge (crux) to a stance. Once past the crux the difficulties are alternated with stances. 5.9, 110'


Standard rack with small cams and nuts for the upper dihedral and large gear for the chimney or the Beast Flake.
You will need 2 ropes to get off the route from anywhere. In addition, once you are at the start of the dihedral pitch you can only get off if you leave gear in the crack! 2-60 meter ropes will get you all the way from the top of the Beast Flake to the starting ledge.
July 5,1972 - Paul Ross and George Meyers