Climbing Area Index / Mount Washington / Odell's Gully (WI 3 II)
---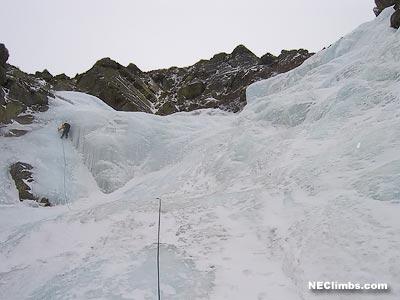 Jim Gagne doing the left variation.
Just left of the obvious Pinnacle Buttress at the back of the ravine.
Odell's offer's some very nice technical ice climbing in a spectacular setting. Generally the right side is the most difficult, middle easiest and left side somewhere in between. The upper section near the top-out can be prone to avalanche.

Pitch 1: Climb several pitches of ice to a snowy finish straight up or right to the Alpine Garden.


standard ice rack
same as Pinnacle Gully
March 16,1928 - Noel E Odell, Lincoln O'Brien, J.J. Hurd, Robert Underhill