Climbing Area Index / Ethan Pond / Mt. Willey / Hip Deep (WI 4 IV)
---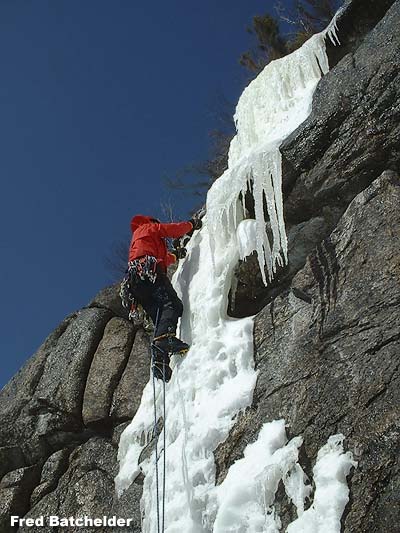 Larry Boehmler leading on a beautiful backcountry day.


Photo by Fred Batchelder
The right hand climb in the amphitheater.
The start is thin ice over low angle rock slab. If the ice is too thin, bypass the slab and start in the shallow snow gully and work your way to top of a rock slab to low angle ice.

The name came because the first ascent party waded for a half mile thru snow up to their hips for 1 1/2 hours from the leanto to the cliff.

Pitch 1: Start up on thin ice on a low angle slab. This 15' sheet ice becomes steep for another 15' to the base of a 30' pillar. climb the pillar past several ice bulges to a snow & tree gully to the last tree. Continue another 40' to the base of a headwall on easy snow.

Pitch 2: Climb a 30' vertical flow and then 20' moderate ice to trees.


standard ice rack
rappel the route
February 28,2004 - Larry Boehmler, Fred Batchelder