Climbing Area Index / Cathedral Ledge / Raising The Roof (5.9)
---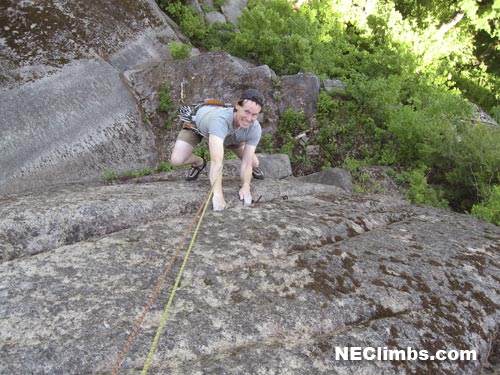 Al Hospers on the hand-traverse.


Photo by George Hurley
Look for a large corner capped by a roof on the left side of the North End. It's 20' left of The Slot.
This climb is an extension of The Roof and provides you with a nice 3-pitch climb.

Pitch 1: Climb The Roof as usual. As you come up to the roof continue climbing for about 25' up it's right side in a moderate corner to a ledge. You can setup a gear-belay in the corner here where you can see your second, rappel from a tree on the right, or continue up the corner to the large Unicorn ledge.

Pitch 2: Continue up the corner or step right & climb up a small buttress (awkward) to the big Unicorn Ledge. Belay from a 2-bolt anchor on the left side of the ledge.

Pitch 3: Start just left of the belay at a blocky corner. Climb straight up a series of corners to some arching grooves. Move right (crux) and follow the 3 bolts up to a hand-sized horizontal crack. High-step into the horizontal and make a thin move (crux) to the 2 bolt anchor below a steep slab. Rappel from here or climb the final unprotected mossy slab for 25-30 feet to the trees at the top of the cliff.


standard rack with a #3 Camelot for up high where you start the hand traverse
Rappel from the 2-bolt anchors to the ledge at the finish of the North End climbs. Walk left and rappel from a tree just above Recluse. NOTE - be careful of the Poison Ivy above the top of They Died Laughing.
August 2006 - George Hurley, Chris Noonan