Climbing Area Index / Cathedral Ledge / Work Of The Devil (Other)
---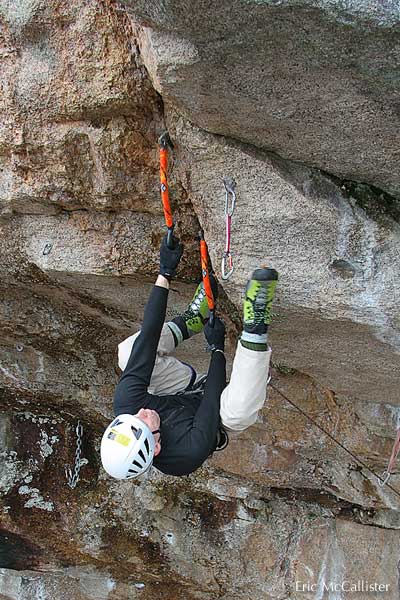 Jim Ewing


Photo by Eric McCallister
Located in the cave/roof area to the right of the Mordor Wall.
The route follows the general line of an existing rock climb, "The Devil Made Me Dog It". It was rated M7+/Man-2 by Jim and Eric McCallister who assisted in the FA and has attempted the route himself. The M7+ is on the 'New England Mixed' scale, aka. the Freddie Wilkinson scale and the Man scale is one suggested by Doug Madara. The NEM scale is capped at M7+ while the Man scale is open ended.

Pitch 1: Climb the "Devil Made Me Dog It" to the sloping ledge and 2 bolt anchor.

Pitch 2: Follow a line of bolts out the roof and continue out the lip of the 35' roof.


Quickdraws - it's a sport route after all!
Kind of depends... If there is ice keep going. If not, lower off. You did set up a lower line, didn't you?
January 29,2006 - FA - Jim Ewing