Climbing Area Index / Crawford Notch / Cinema Gully (WI 2 II)
---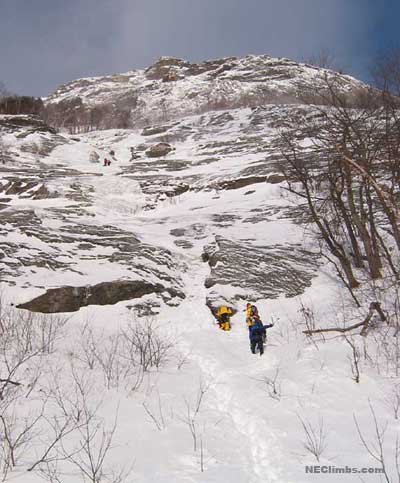 Busy day on Cinema


Photo by Al Hospers
Park in the lot at the top of Crawford Notch, just south of the AMC lodge. Walk south alonf the RR tracks through the cut and around the corner. Continue walking until you see an opening in the trees and an obvious ice line up through the slabs to the tree ledge.
Not actually a gully climb, Cinema is a classic alpine route in a wonderful location. The ice is often thin and difficult to protect, at least down low. Occasionally there are avalanches on this route, so be aware!

Pitch 1: Climb 3-4 pitches of moderate ice to the large tree ledge. The right hand finish is harder than the left.


standard ice rack
Traverse left if there is a trail and bushwack back down to the tracks or traverse right to the top of Hitchcock Gully. Finish by rapping down Hitchcock, or climb Upper Hitchcock and walk off.
WInter - unknown