Climbing Area Index / Crawford Notch / Great Madness (WI 5 II)
---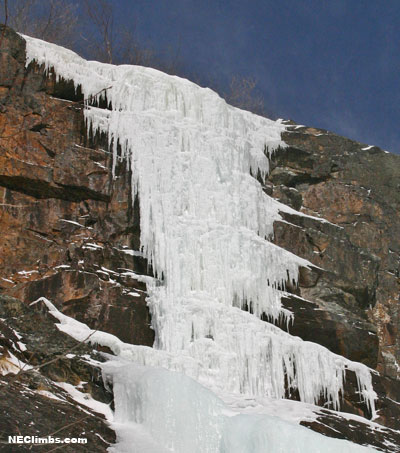 Photo by Al Hospers
Park in the lot at the top of Crawford Notch, just south of the AMC lodge. Walk south along the RR tracks through the cut and around the corner. Continue past Cinema to the next obvious gully. Hike up the snow slope to the climb.
There aren't that many grade 5 climbs in the area and this is one of them. While often sun baked, Great Madness is a wonderful climb when in good conditions.

Pitch 1: Climb the moderate ice bulge and belay on the left.

Pitch 2: Climb the steep and unrelenting vertical pillar to the tree ledge.


Standard ice rack
Rap the route or finish on one of the other routes on upper Willard.
January 1982 - Jim Dunn and Dale Wilson