Climbing Area Index / Crawford Notch / Hitchcock Gully (WI 3 II)
---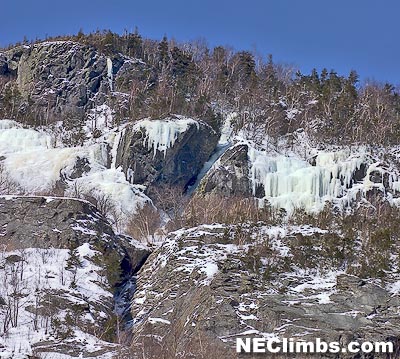 Photo by Al Hospers
Park in the lot at the top of Crawford Notch, just south of the AMC lodge. Walk south alonf the RR tracks through the cut and around the corner. Look for a granite pillar on the right at an obvious snow gully. Hike up until you find ice.
A classic gully climb, with a twist. The crux of pitch 1 is a short mixed section that's about 5.5. Great fun...

Pitch 1: Climb the ice at the top of the gully, sling a tree on the left and make a couple of mixed moves up to the tree ledge.

Pitch 2: Climb the right-angling ice filled gully to the a belay stance at a small tree on the right.

Pitch 3: Continue up to the top.


standard ice rack
If you only do the 1st pitch you can rap and gliss down the lower gully. If you go to the top, follow the climbers trail to the main hiking trail and hike back down to the road and your car.
WInter - unknown