Climbing Area Index / Cathedral Ledge / Still In Saigon and Miss Saigon, a.k.a. The Saigons (5.8)
---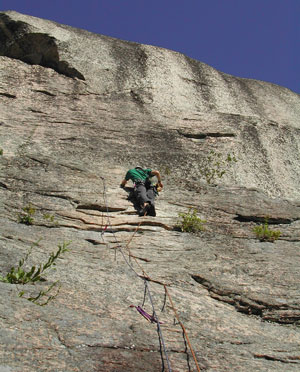 Jeff Cavicchi on Miss. Saigon


Photo by Al Hospers
Uphill past the Mordor Wall and Thin Air to the top of the hill, just before the dirty tree filled gully. Look for large tree with exposed roots and a bolt at a bulge about 20' up.
This is a real classic of the area and well worth doing. It deserves every one of the 3 stars given in many guidebooks.

Pitch 1: Still In Saigon - Face climb past fixed protection to a 2-bolt ring anchor on a ledge just right of a large block. A well protected mantle move about 2/3 of the way up is the crux. 110'

Pitch 2: Miss. Saigon - Step right and continue up to a small ledge. Continue up the clean face to a horizontal crack. Climb the steep face above the crack past a bolt to a large ledge and a 2-bolt ring anchor on the buttress. 55'


Draws, standard rack and a 60 meter rope.
Rappel all the way to the ground from the anchors on the Airation Buttress using two 60 meter ropes. You can also traverse right on the ledge (sometimes slippery) to the start of Airation or Pine Tree Eliminate, continue right to the climber's trail and walk off. While you can get off with a single 60 meter rope, it will require a 15' down-climb or a swing to the left into the bushes.
June 19,1982 - Still In Saigon -John Strand and Mike Cody - June 19, 1982. Brad White and Ian Cruickshank added the direct start in May, 1994. Miss. Saigon - Tom and Haydie Callaghan October 1994