Climbing Area Index / Cathedral Ledge / Funhouse (5.7)
---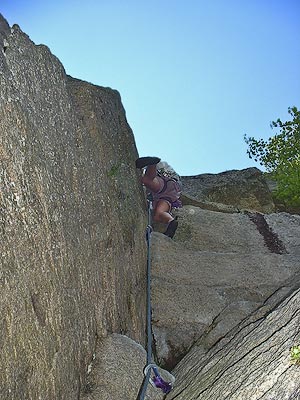 Al Hospers


Photo by Jeff Cavicchi
Just right of 3 Birches, scramble up past roots to a ledge and a large right-facing corner.
Just about as good as 5.7 can get. Well protected and totally fun. That said it may be a bit on the stiff side for beginning leaders!

The climb starts around the corner to the right from Three Birches. Scramble up to a ledge to double right-facing corners.

Pitch 1: Climb the corner past a pin up to a small ledge. Build a belay anchor in the corner and belay from here so you can see your second.

Pitch 2: Continue up the beautiful finger crack in the corner, step left onto a slab and continue to a tree ledge. Belay here. Consider lowering down about 15' where you can see your second.

Pitch 3: This next section can be done in 1 or 2 pitches. Climb a bulge on the left behind a tree (small gear). Continue to the next ledge and on up to a clean light reddish-brown face on the left. Climb past an old ring-piton. Wonderful climbing takes you to a ledge with trees.


Standard rack
Continue to the big tree ledge and finish on one of the upper climbs, or rappel with 2 ropes.
1969 - Joe Cote,Larry Poorman