Climbing Area Index / Cathedral Ledge / Freedom (5.10)
---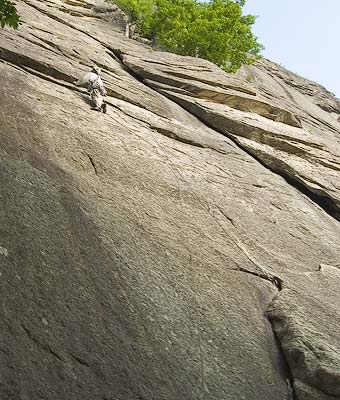 Photo by Jeff Cavicchi
The climb is located just left of Turner's Flake on the Thin Air face.
If you like thin face climbing, you'll like this one. Reasonable protection and a confounding crux make for a nice way to get up to the chain anchor on the right of the Thin Air traverse,

Pitch 1: Begin on the normal flake start for Standard Route. At the top of the flake climb straight up the clean face past 2 bolts to the right side of the overlap. Pull the overlap and look for a small flake up and right. Then angle left to the Windfall bolt and continue straight up Windfall to the chain anchors.


Standard rack with small cams.
rappel with 2 ropes
August 2,1995 - Ed Webster, Harold Consentine