Climbing Area Index / Whitehorse Ledge / Future Shock (5.11c)
---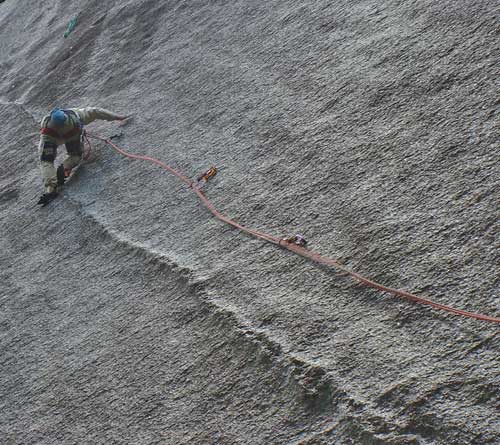 Photo by Al Hospers
Located between the Ethereal Buttress and Echo Roof. Look for the obvious left angling dike with bolts.
Although this is arguably a 2 pitch route, nobody ever does the second one. This is a real exercise in how well you can stick to the rock.

Pitch 1: Follow the dike to the belay.

Pitch 2: Step left off the belay heading for a solution pocket. Aid past 3 bolts (A1), mantle on the ledge and head right to a tree belay.


quickdraws
rappel the route with 2 ropes
June 1981 - Alain Comeau, Janot Mendler Comeau FA - Alain Comeau, Steve Larson - FFA